Clarinetists of all ages are invited to join the Dallas Winds and the Clarinets & Cookies project for a World Premiere clarinet choir feature performance!
Reed, White & Blue 4th of July Star-Spangled Spectacular!
Wednesday July 4th 2018
Morton H. Meyerson Symphony Center
2301 Flora Street, Dallas, TX 75201
Space is limited. Registration is now closed.
Music and further details will be emailed to you when you register. 
Registration is now closed.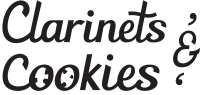 Clarinets & Cookies is a community outreach project created by Mary Alice Druhan and Timothy Bagert and is operated by the Texas A&M University-Commerce student organization, Clarinet Coalition (Alex Villa, President)